UAT/Hopper tanks
Try to give some short overview over commercial available hopper tanks. All these products may also be available by your local distributor or dealer.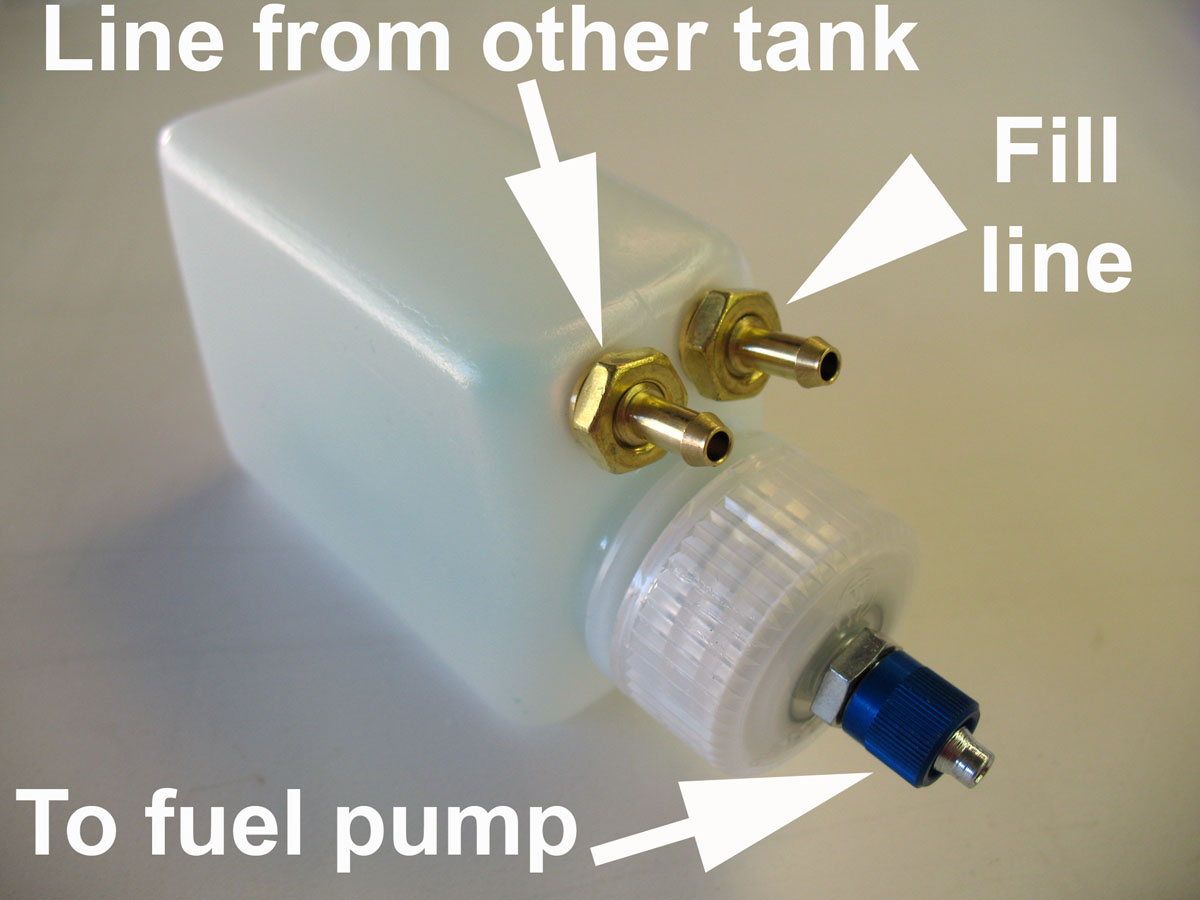 BVM
The mystery material, duck bill shaped sack inside will deliver a solid stream of fuel (no bubbles) to the fuel pump even if the 4oz bottle should get 3/4th's full of air, which is very unlikely.
This is a very high quality product for those turbine pilots who want to eliminate the possibility of an air bubble causing a flame out. The U.A.T. is placed in series between the last fuel tank and the fuel pump. The system is filled through the 3rd line in the U.A.T.
The rectangular shaped tank can be mounted vertically or horizontally and produce the same results making it convenient to fit into just about any model and it will work with any model size turbine engine. Product page
Intairco
High flow Airtrap and Super airtrap. More at their website.
Special features incorporated into the IAC Turbine Air Trap include:

Simple connections using proprietary 4 or 6mm Festo High Flow connections to ensure compatibility with all turbine installations.
Fuel feed and refueling point connections that can be swivelled through 360 degrees to suit individual installations.
The provision for refueling the aircraft using a specific Refueling Point, which is designed to completely empty the air trap tank.
The IAC air trap/filter ensures that any foreign particles along with any air bubbles are refrained from entering the fuel line to the pump and turbine.
GBRJet
Composite Airtraps
Manufactured from West Systems resins and cloth the tank is light and very strong due to its circular x-section. Black FR4 cnc cut end plates are fitted to the tank with Aeropoxy and fully pressure tested before shipping. The chromed brass barbed fittings are optimised for ID/OD pipe fitting, the feed and supply barbs are the same dimensions whilst the fill barb is smaller to help reduce overpressure of the fuel system while filling. Unlike most other products on the market the CAT comes with a special black plastic ABS mounting plate which allows the CAT to be easily mounted almost anywhere in the airframe. 'O' rings secure the CAT in place in any orientation you require. Special 'O' ring retaining lugs on the ply plate hold the 'O' ring in place so that when one end is released the other remains attached, helping to ease assembly. Internally a high flow optimised pleated fuel filter is positioned in the centre of the tank. The CAT is translucent so air bubbles can be seen through the unit allowing the efficiency of the fuel system to be easily monitored. Product page
Their are other's like Jet Model products or some jet manufacturers's that offer UAT or hopper tank's. It's your choice.